Kevin Durant's New Potential Deal Worth Over $25 million—And That's Just Off the Court
Will Kevin Durant land a deal with Under Armour worth an estimated $265-285 million?

According to Kurt Badenhausen of Forbes:
Durant banked $14 million overall this season from his endorsements with Nike, Sprint, BBVA, 2K Sports and others. His Nike pay represented $11-12 million of the total, as Durant's on-court success triggered incentives driving up the value of his original $60 million Nike deal.
Badenhausen continues to write that Nike offered Durants a contract worth around an estimated $20 million per year, not significantly less (relatively speaking) than the one from Under Armour. Certainly Nike can scrape together another $10 million per year for Durant to keep him, but why would they?
Again from Forbes:
Nike sold $175 million of Durant's signature shoes in 2013 in the U.S. or $95 million at wholesale, according to SportsOneSource. Durant's payout represented nearly 13% of Nike's revenue from the shoe. But the previous two years, Nike only sold $35 million at retail (less than $20 million wholesale) and $15 million at retail (less than $10 million wholesale). Durant has been a drain on Nike's bottom line since he entered the league until now.
The last sentence is both surprising and eye opening.

Durant will likely to accept the offer from Under Armour; They've offered him other enticing incentives such as stock in their company, as well as to build a community center in his mother's names.

Personally, though the company is certainly in no comparison to Nike and it's money and power right now, but I think it's certainly a model up-and-coming company—just like the Thunder, ironically.
Who's the Best Big Man out of the Southwest Division?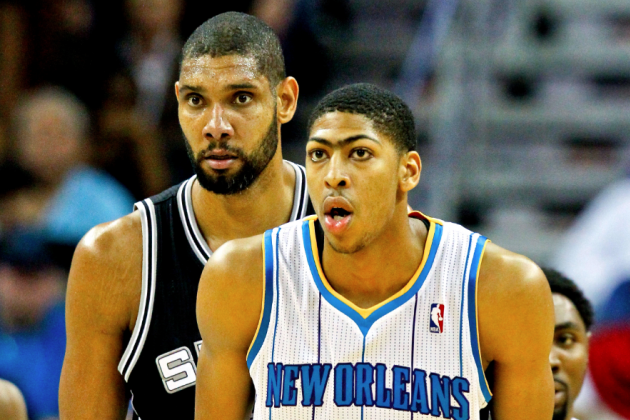 There's reigning champion Tim Duncan, followed by the 2011 champ Dirk Nowitzki, Anthony Davis, Zach Randolph, Marc Gasol and Dwight Howard.
Damn. Let's try to turn that into some rankings:
Who would I take right now to win an NBA championship at the end of this season and that's it.
1. Tim Duncan
An easy pick after watching him personally destroy the back-to-back champions in Miami Heat.
2. Dwight Howard
This guy is about to have a monster season. Don't forget he won four Defensive Player of the Year awards and is only 30? years old. With a (hopefully) improved James Harden, Howard should tear the paint up this year.
3. Dirk Nowitzki
This is basically a 2B if
you want the best offensive big man in the game. Yeah I said it. With
Tyson Chandler
back and a totally revamped roster, Nowitzki is going to lead this team into a nice playoff run.
4. Anthony Davis
Davis is No. 1 on this list if the premise goes beyond one season. I need to write an article of it's own on how amazing this kid is going to be. He'll pass the likes of Paul George, James Harden and Chris Paul in the likes of stardom. You can bet on that.
This list shouldn't take anything away from Zach Randolph and Marc Gasol—Gasol I was highly considering putting fourth if I didn't see the stuff Davis did on Team USA this Summer. I love how Conley and company run a screen from Gasol, who has the ball, to the basket and he nine times out of 10 makes the perfect pass right under the basket for the easy layup.
I do want to point out, though, that neither Randolph, Nowitzki nor Duncan can jump over a stack of Bibles.